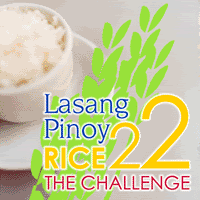 I am hosting the 22nd edition of
Lasang Pinoy
, which is a monthly food blogging event to promote Filipino cuisine. If you've always wanted to try a Filipino dish or if you have one already that you'd like to share, we invite you to submit a Filipino dish you've cooked up.
The
theme for this month is rice!
Rice is a huge part of the Filipino diet especially during the holiday. Rice in Filipino cuisine is not just a side dish, it could be a main dish and even dessert!
All you have to do to participate is post a Filipino recipe with rice as it's main ingredient on your blog, or if you don't have one, just email me your recipe and photo (if available) and I will post it on
Cooked from the Heart
, my food blog. Leave a comment here with the URL to your post, or email me at jmomblogs [at] gmail [dot] com.