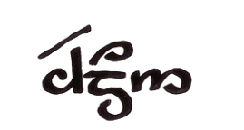 My eleven year old daughter has been having fun writing in Elvish and has scraps of paper strewn all over the place with Elvish writing on it. She is using her Japanese calligraphy set to write with and she is actually doing a pretty good job at it!
Want to create your own Elvish writing? Click here to learn how to
write your name in Elvish
.
If you love doing stuff like this, here's another form of writing called Baybayin. According to the website:
Baybayin aka Alibata is a pre-Filipino writing system from the islands known as the "Philippines". Baybayin comes from the word "baybay", which literally means "spell". Read more