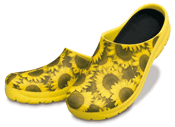 It doesn't look like it yet, but spring is here! I can't wait until the ground dries up and I can get out to
the garden
again. I'd love to start getting the beds ready and get some seeds in.
I've already started cleaning the tools and putting them somewhere accessible in the storage shed. They're all ready to go. Now if I can get some of these cool garden clogs and a matching hat, I'd be all decked out and ready to go too!
Luckily,
Three Different Directions
is holding a giveaway for these very cool garden clogs. All you have to do to enter is visit her blog and leave her a comment on which style you would like and your shoe size! How easy is that, right?
So go on over there and
win one of these garden clogs
by
Jolly's
.