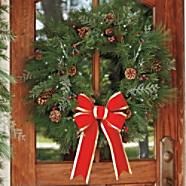 It's Halloween this weekend so I went to the mall last night for some treats. Instead of ghouls and witches, what I saw instead was a lot of reds, trees and
christmas wreath
s! What's up with that? Christmas is coming on faster than the midnight express!
Again, the economy is to blame. I heard on the news that stores are putting out their Christmas wares to give everyone a chance to start shopping early to avoid the big expenditure in December. They are also bringing back layaways which had gone out of fashion for a while. Layaways, they claim, will keep shoppers from using credit cards which many of us are avoiding, but still will allow the convenience of being able to shop early and pay in installments.
Myself, I am more prone to just buying what I can afford and if I can't afford it, I would just not buy it. Even if it means that we won't have as much for Christmas as we did in previous years. How about you, what's your shopping strategy this year?