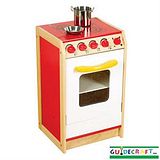 When I was young I used to love to play house. Whether I only had a cardboard box to play with or an intricate
wooden play kitchen set
, it would be good enough to keep me occupied for hours! Well it turns out nothing much has changed now that I'm grown with my own kitchen. I still spend hours in there tinkering, experimenting and serving anyone who happens to set themselves down at my table.
When my girls were younger, they were the same way. They loved playing house! We had a whole play house corner set up for them in their room and they would spend hours in there playing! I wish I had known about The
Kinder Garden
toy store back then. Luckily for the internet, almost every small store now can have a wider audience. They actual store is located in the historic downtown district of Skaneateles, New York. They carry the cutest collection of kid's toys from stuffed animals, wooden toys, puzzles, and these adorable kitchen sets. Oh they also have great dress-up clothes for kids and some of the toys offered on the site are hand-made and unique. It's a great site for anyone looking for unique gifts that are not usually found in your run of the mill department store.