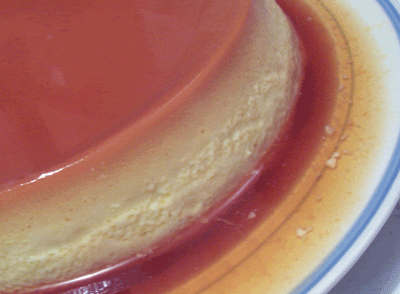 Previously we talked of eating healthy vegetables. Today, lets talk about indulgences. What could be more sinfully indulgent than a piece of flan, and if you want to raise it up a notch, cocoflan!
The word flan is derived from French and Latin words that mean custard. Almost every cuisine has a version of flan, and it's basically composed of a combination of milk, eggs and sugar. The flan is known by various names: Creme Brulee, Creme Caramel, Egg Pie, Custard Tart.


Although the amount of creme and eggs may scare the cholesterol into your veins, there was a time when flans were associated with the many health benefits associated with eggs. I suppose just like anything in life, if taken in moderation, its benefits will outweigh the negatives. That's how I rationalize it anyway :) I make flan at least once a year when I see my mom. Flan is her favorite dessert and she requests it everytime I visit her. I like flan too, and once in a while I do indulge with the help of my eating buddy, Asi. She and I are the only ones who like this dessert in our house. The hubby and the other girls are not too crazy about the texture. The texture though, along with the slight sweetness is what makes this dessert for me and Asi. We don't like it cloyingly sweet like some versions we've tasted. The amount of sugar in this version was just right.

For the last couple of days, this has been my midnight snack. I am not a big dessert person, but I do enjoy dessert now and then. The best time to have dessert for me is after ten o'clock when the girls are snug in their beds and I can finally relax and curl my legs up in front of the tv with a serving of something sinful and sweet.
How about you, how do you like your dessert?


Click on the photo if you want to make cocoflan.