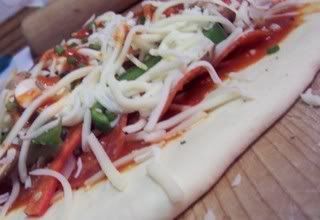 There is no better place for learning than in the kitchen. The whole gamut of school subjects from reading to math to history can be practiced in the kitchen. The best part is, when you are done learning, you can eat your materials. One of the best mediums for lessons in the kitchen is pizza and no matter how your pizza will come out, the kids always love eating their own creations afterwards.
Depending on the age of your little assistants there are some basic things that children can learn while cooking pizza.

The basics:
Measurements - this applies to any cooking they will do in the kitchen. Fractions suddenly come to life when they measure out the different ingredients. My girls became very adept at dividing, multiplying, adding, and subtracting fractions because of cooking. They told me how they can 'see' how 3/4 and 3/4 become 1 and 1/2.

Sensory - pizza making is a very sensual experience that is why it is perfect even for very young cooks. Kneading the dough, being able to play with it with your hands much like they do with play-dough is fun all on its own. Start with the flour and let them feel how dry and fluffy it is. Have them run their fingers through a bowl of flour. Then let them try how olive oil and water can feel different even though they are both liquids. You can discuss molecular properties of oil and water with older kids. Let them see how olive oil has a greenish tinge while other oils have a yellower hue. Have them smell the olive oil and yeast. And best of all, they can taste ingredients before and after cooking.

Chemistry - there is no better laboratory than the kitchen. Children can observe changes in matter, from solids, to liquids, to gas, to solids that are all transformed from one state to another. You can be as simple or as detailed as you want to be in your explanation.

History - discuss how pizza became so popular in this country. Where did it originate from? How was it traditionally cooked before invention of the modern stove? The conversation can go on and on.

Pizza making is one of our favorite weekend activities. If you'd like to try it out in your own kitchen, click here for the recipe.