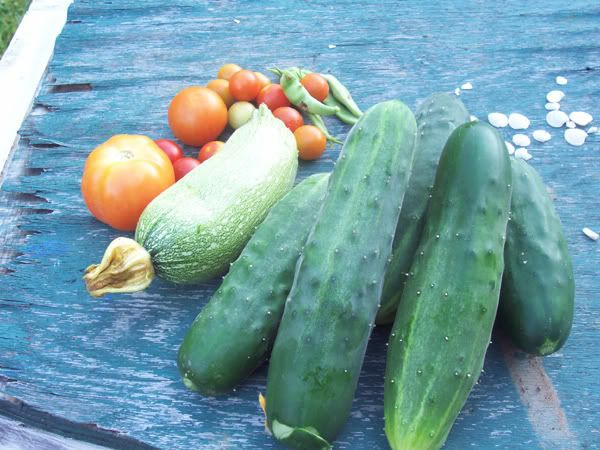 Like I said previously, we had lots of family over our house this past weekend. We had a great time with everyone and of course you know food had to be in the picture. We are a family that loves to eat!
I find it amusing though how everyone is so amazed (don't know if that's the right word for it?) at how we eat. They are always commenting on how healthy we eat or how is it that the girls love vegetables so much. While I was shucking corn, my nephew commented, "mom, why don't we ever do stuff like this?". He had tasted how sweet and fresh tasting the corn were. They were so fresh and sweet that they didn't really need any cooking. I could have tossed them in a salad fresh off the cob. This time though, I just heated them through with a bit of butter and nothing else. They were delicious! In addition to the meats (chicken, ribs, sausages, steaks) we also had tons of vine ripened, fresh tomatoes from our garden. Sliced tomatoes and cucumbers were topped with torn basil leaves and drizzled with a dressing of balsamic vinegar and olive oil. Simple really. Nothing amazing about it. We take it for granted and eat what is in season and what comes out of our garden, and it's just as easy as opening a can.
The girls had a great time reconnecting with their cousins this past weekend even though what brought us all together was a sad occasion, it was a chance to mend fences and enjoy the bounties of the
garden of life
.