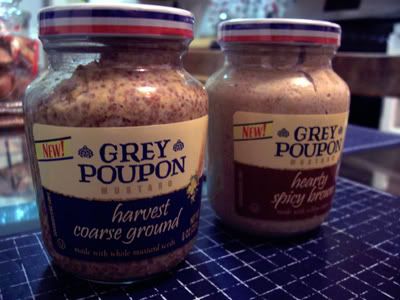 I got these in the mail earlier in the week and we've had a week full of mustardy dishes. Luckily, I haven't heard any complaints yet. But, they are used to it.
Grey Poupon
mustard is a staple in our cupboard as is probably the case in most household. It's just that since I have been tasked to give an honest review of these products, we've been experimenting all week to see which one taste better and how many ways we can use it.
My personal favorite way of using mustard is not with hotdog as most would probably expect, although a hotdog without mustard is not worth the bun it sits on, I like it best with corned beef. Boiled corned beef with cabbage and potatoes with a side of mustard would have me sighing before night's end. This week, for this experiment, we've used mustard in sandwiches, mustard roasted chicken, and steaks with mustard sauce.
We've all decided that both the coarse ground and spicy brown mustards are both good in their own way but have decidedly different uses in our opinion. No onle liked the coarse ground mustard in sandwiches. The mustard seeds had a bad habit of lodging between your teeth. The smooth spicy brown mustard works best in sandwiches. The dish with coarse ground mustard seed that was a hit with everyone was our experimental roasted chicken.
To make mustard roasted chicken, take a whole chicken and wash it inside and out then dry it with a paper towel to soak up excess moisture. In a small bowl, combine about 4 tablespoons of coarse ground mustard, a teaspoon of kosher salt, half a teaspoon of garlic powder and the juice from one lemon. Slather this mixture all over the chicken including the insides. Place chicken on a roasting rack and pan, bake in a pre-heated 400 degrees F oven for 30 minutes. Turn the heat down to 350 degrees and bake for another hour and fifteen minutes. The skin will be crispy and mustardy and the insides will be good and moist. Yumm!
Even without having been tasked for this review, I would highly recommend Grey Poupon mustards for your kitchen.