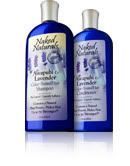 I received samples of a product called
Naked Naturals
shampoo a while back, and I really liked it so I have been looking for a place to buy full sized bottles since. Unfortunately, it seems that all the Walgreens and Kerr Drugs (they carry this product) in our area have been taken over by big name drugstore chains.
This past weekend, we went shopping in Raleigh and just happened to pass by a Kerr Drugs. I turned the car around, went in and finally found my shampoo! As I previously mentioned, I have been having problems with
dandruff and thinning hair
. I started using the shampoo immediately and already notice a decrease in the dandruff. Can't say yet if the thinning will stop, but I'm hopefull. My hair has been really troublesome. I think I'll cut it short soon to get ready for the summer.