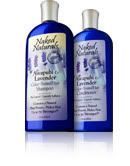 I've been going through different shampoos lately, even ones that used to work in the past, because my hair has been deteriorating. It has started thinning out, then it decided to take on some curls, then it got frizzy...and lately, just aout every shampoo I tried caused dandruff!
Just about everyone I told my problem to recommended trying a weaker shampoo without as much chemicals and perfumes. Then I received a free sample of
naked naturals
shampoo in the mail. The package says it strengthens your hair 7X and that immediately got my attention. God knows, my hair needs some strength so it stops falling out! What's more, it's made of natural products and has no harsh chemicals, like DEA, TEA, or lauryl/laureth sulfates. The key ingredient in Naked Naturals is Keravis, a natural plant protein that penetrates and moisturizes hair follicles making hair thicker and stronger. Sounds good, right?
I have used this
natural shampoo
a couple of times now, and tomorrow I am going to Walgreens or Kerr Drugs and find a full sized bottle. My hair has gotten less frizzy, it feels smooth and silky, and best of all, no dandruff! My ten year old daughter has been having some dandruff with our present shampoo too, so I'll have her try this Naked Naturals shampoo. I'm sure it will work its wonders on her hair too. I'm not sure yet if it lives up to its claim of strengthening and thickening, I'm sure results can't be evident after just a couple of uses, but I'm willing to give it time. I'll let you know if my hair gets thicker and stronger. Maybe I'll even take a photo then ;)