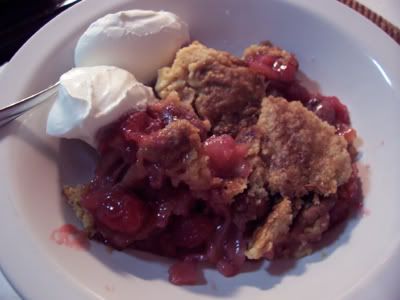 Here's an update on what's been going on in our other blogs:
COOKED FROM THE HEART
Cherry Crisp or Cherry Dump Cake
(pictured)
Fried Potatoes
- cooked it up for breakfast, but could also fare well with other dishes like a nice grilled steak.
Furikake
- it's a Japanese seasoning for rice. But have you ever had it for breakfast?
Eggplant Salad
- another great complement for grilled meats
What's been going on with the
AMOORES
?
Art for the Summer
- see photos of my girls when they were younger and working on their art.
The Adventure Continues
- Indiana Jones continues to woo young and old girls alike.
In our
BACKYARD
:
See photos of our
garden in early spring
. I'll try to post more recent updates soon.
At
FOUND NOT LOST
read about my recent reviews:
Vinegar Hill by A. Manette Ansay
- a book review of my recent read or re-read
Inuyasha Bag and other Anime Items
- found this website with cool Anime products
The Historian by Elizabeth Kostova
- a big book that took me a while to read, about very interesting vampire lore.
If you don't find me here, now you know where else I am :)