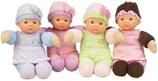 I think babies and young kids are the most fun to shop for gifts for. But then, the joys of Christmas is really designed for the young at heart. My greatest pleasure comes from watching the faces of the kids when they receive a present.
Having all girls, I know their most enjoyable presents were their dolls. Dolls aren't on their lists anymore but all the dolls they've gotten over the years still hold a special spot in their lives. They won't part with them. I understand that perfectly since I still have a couple of MY dolls from when I was a kid :)
If you are looking for reasonably priced toys for the little ones on your gift list, make sure to check out
Small World Toys
. They have a nice selection of toy brands that are not only fun to play with but are educational as well.
When ordering, make sure you use the coupon code:
SALE142
in order to get a 20% discount from your order. Keep in mind that if you order more than $50 your order will be shipped for FREE.