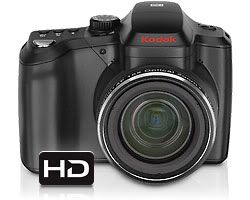 I really, really need a digital camera! I miss my Kodak point and shoot that died on the last fishing trip when it was inadvertently dropped. I can't afford to just go out and buy one so you can imagine my excitement when I found out
Amanda - A Stay at Home Mom's Point of View is giving away a Kodak Z1015 digital camera!
The Z1015 is heaps better than my old one with more amazing features and zoom capability.
I've gotten slower with blog updates because I don't have a camera. It's amazing how I've gotten into the habit of photographing
everything I cook
and now that I can't, I feel like I'm missing something. Sort of like when you cook something and you forget to season it. So I hope I win!
Then I can also stop randomly meandering on the internet like a lost soul, stopping to look at sites about buried skulls, weird sea creatures, moving companies New York, plumbing DIYs, worm composting bins, and what ever else pops up. I know, it's a little pathetic.
I need a digital camera!!!! :)