I'd like to think everyday is momma's day, but if we have to choose one special day to be mom's day, then I suppose the first Sunday in May is just as good as any. My mom and my sisters in California
went out for dinner
, an annual ritual for Mother's day so no one is stuck doing all the cooking, since we are a family of women after all and mothers, all of us.
Since I am all the way here on the other coast, I miss out on these family get togethers. Luckily I have my own troop of little women to pamper me, and I must say that they did a terrific job.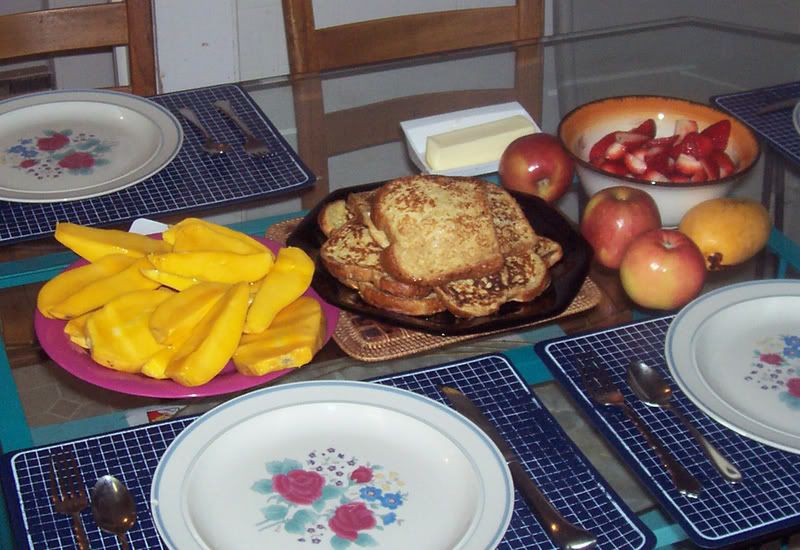 First, they let me sleep in as late as I wanted. For once, my youngest didn't wake me up at 8 a.m. on a Saturday morning to tell me she's hungry. Her dad and her big sisters took care of her. At about 9:30, I felt a soft kiss on my cheek. It's the Clone wishing me a Happy Mother's Day and what would I like for breakfast. She was being quite magnanimous because among her menu offerings was shrimps, eggs and fried rice. I say magnanimous because she so hates seafood that it can drive her to tears and gagging whenever we serve seafood, especially shrimps and crabs. Just the fact that she offered to serve me this already made my day and made me smile. I decided, to her great relief, to have a light breakfast and have some french toast instead. She dutifully wrote down the recipe for french toast and went to the kitchen where Jade and Asi were already getting things ready. She told them what to do and how to do it, and according to Jade, dipped three pieces of bread all by herself and put them on the skillet to cook.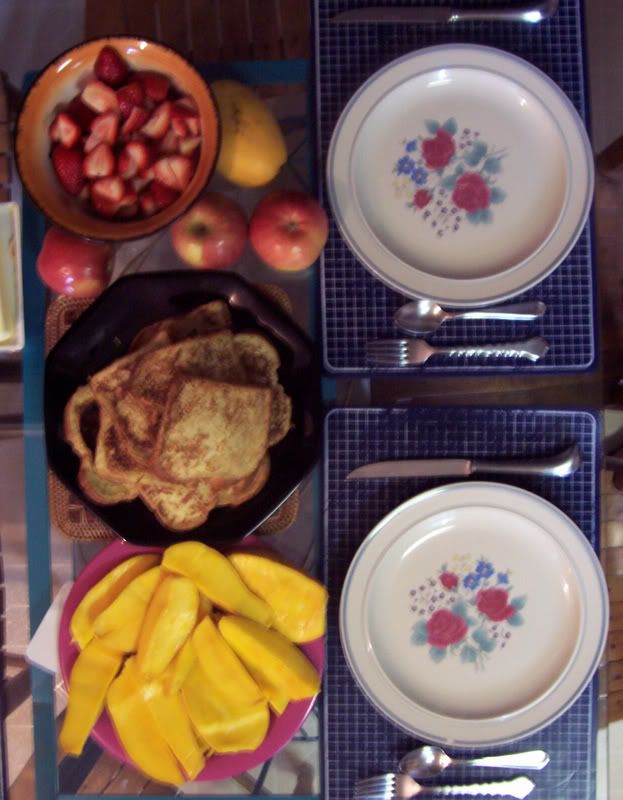 She soon got tired of that. It was too messy on her hands so she set about fixing up the table. I hate to think what they did to take this overhead photo, but this is how they had the table. Now there are many things wrong with this table setting, but I was just too touched to give a lesson (again) on proper table setting. Because they did get the main thing right, and that is to show mom their love and appreciation.

I hope you had a happy mother's day or that if you're not a mom you took the time to wish you mom or mother figures a happy mother's day.