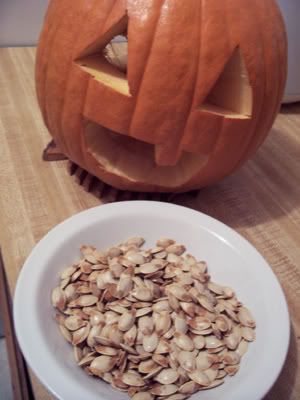 While you are cooking up all the pumpkin dishes for Thanksgiving, make sure to save your pumpkin seeds! I finally found a recipe for toasting pumpkin seeds that actually makes them edible. Sure, you would think roasting pumpkin seeds would be a no brainer. It thought so too, until my previous attempts yielded flat, hard to crack pumpkin seeds that are so unlike the ones you buy at the store.
This last attempt, I finally found a tip that made fat, succulent seeds that are so crunchy you don't have to crack them, you can eat the whole thing! These would
toasted pumpkin seeds
would be a great snack this weekend while you're parked in front of the TV watching football or Twilight Zone marathons.